Stadtwerk Tauberfranken GmbH, Westfrankenbahn, Verkehrsgesellschaft Main-Tauber GmbH and Taubermobil Carsharing e.V. launched a project at the end of 2019 to promote new mobility "Electric and Together" and to demonstrate the possibilities of alternative means of transport.
In order to travel and discover the Tauber Valley from Bad Mergentheim and get to any desired destination, Taubermobil e.V. will be able to provide an additional e-car and 2 e-bikes in car and bike sharing from June.
These vehicles are available from June 2020: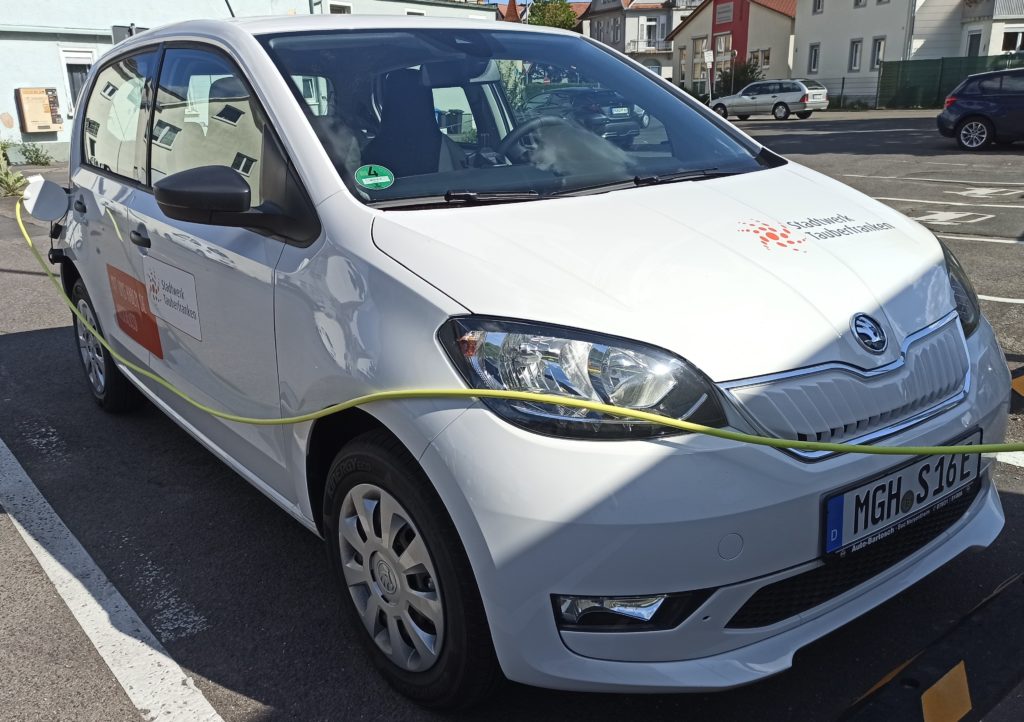 Skoda Citigo-E: Parking garage at the railway station – Zaisenmühlstr. 3, 97980 Bad Mergentheim
Range depending on season and driving style approx. 250 km
4-seater, 4 doors, no navigation device but mobile phone holder
E-bikes: Station – track 1, Bahnhofplatz, 97980 Bad Mergentheim
frame height 48cm and 52cm, 7-speed hub gear, 450 Wh battery, range up to 120 km
The access by users is possible via the taubermobil app.
The taubermobil app is developed for mobile phones and is currently available for the following operating systems:
Use of the vehicles:
Install the taubermobil app on your smartphone (once)
Create a personal account, for Citigo-E with POSTIDENT procedure (once)
Select location/vehicle
Book vehicle for immediate or later
Open the vehicle on your smartphone on the date booked, consult and fill in the logbook for the car, remove the charging cable if necessary
drive off
at the end of the booking period, park the vehicle in the designated area and lock it with the taubermobil app
You will find all important information about using the Citigo-E in the terms of use and in detail in the logbook. Before using the vehicle for the first time, it is advisable to allow some time to familiarise yourself with the vehicle.
Registration will soon also be possible on site.
If you have any questions or problems, please contact taubermobil (info@taubermobil.de)
In the near future we are also planning trial offers, e.g. a short-term membership in the association at interesting conditions.
For members of Taubermobil e.V.
Members of the association can book the Citigo-E probably from July on at the special rates for members and then of course without registration and verification of the driving license. The e-bikes can then also be booked by club members without registration.
Translated with www.DeepL.com/Translator (free version)